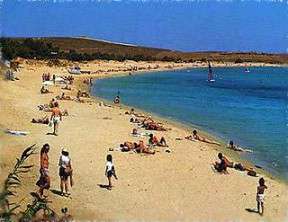 Paros has to offer a great variety of beaches with crystal clear waters throughout the island. In the south part of the island we find the expansive sandy beaches of Chrisi Akti (Golden beach) and Tserdakia (New Golden beach) , both with blue flags. These beaches are famous worldwide among the funs of watersports and specially among the windsurfers.
At Tserdakia every August takes place the annual P.W.A. World cup an event that brings to Paros the best windsurfers of the world in a unique competition under the refreshing wind and the sun of the Aegean sea.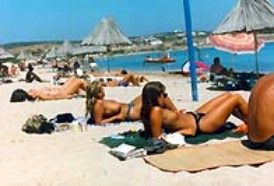 Another attractive beach from that part of the island is Pounda, which is a well organized sandy beach with snack bar, music, restaurant, and a beach bar that is always crowded with young people who are dancing, flirting and having fun. Opposite to the island Antiparos lies the beach of Santa Eirini with palm trees, crystal waters and an exotic touch ideal for relaxation.
Small boats will take you, in ten minutes, from the little harbour of Naousa to Kolymbithres and Monastery for swimming. Here the rocks form an impressive landscape with little harbours ideal for tanning and enjoying the water. A lot of cute beaches are spreaded all around the island: Logaras,(Awarded with blue flag) Piso Livadi, Aghios Antonios, Alykes and many more.
But after all maybe the best place for swimming in Paros is that private little harbour you can always discover around the island.
Send mail to webmaster@parosweb.gr with questions or comments about this web site.
Copyright © 1998 - 1999 ® PAROS WEB SERVER!
Last modified: 09/01/1999