The Island of Paros is frequented by windsurfers from all over the world.Unique weather conditions, ideal for sailing,
together with quiet areas of unspoiled beauty and modern facilities built to cater to the tourist trade, combine to make the island one of the most popular in the Cyclades islands. Paros works a special kind of magic that draws visitors back time and again, so that, eventually, they realise that they never really leave her. So, if it is your first time on the island, be warned that it will likely not be your last. Chosen by the PWA (Professional Windsurfers Association) for the sixth consecutive year as a World Cup site, Paros ideally suited to all types of windsurfing, from competition level, to learning the basic skills of the sport.

The P.W.A. (Professional Windsurfers Association) World Cup, the only professional race in Greece, has been taking place in New Golden Beach (Nea Chrissi Akti) since 1993. Each year sees the participation of more athletes and more fans of the sport. The ideal conditions of the beach, regarding both the purely sailing standards and the level of organisation and services, have established it as an official P.W.A. site, one of the top three in the world. The event is held in early August and is truly spectacular.

WINDSURFING AREAS & WINDSURFING CLUBS:
Golden Beach, Sun Wind BIC Center, Force Seven Fanatic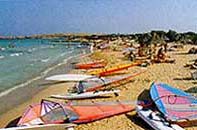 Center, New Golden Beach (Tserdakia) PWA official site, Paros surf Club F2 Center, Punda (opposite to Antiparos), Punda Windsurf Club, Molos, Tsoukalia, Santa Maria, Santa Maria Surfing Beach Village, Naoussa Bay.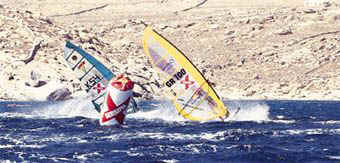 | | | | | | | | |
| --- | --- | --- | --- | --- | --- | --- | --- |
| | APR | MAY | JUN | JUL | AUG | SEP | OCT |
| Wind: Number of Days over 4 Beaufort. | 17 | 18 | 17 | 22 | 22 | 19 | 23 |
Send mail to webmaster@parosweb.gr with questions or comments about this web site.
Copyright © 1998 - 1999 ® PAROSWEB SERVER!
Last modified: 09/01/1999