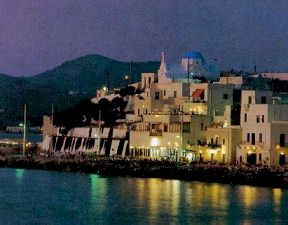 Paros offers to the visitor plenty of possibilities for interesting tours and excursions, not only on the island itself, but also in Antiparos and all the other islands scattered around it in the Archipelago like seagulls floating on the blue sea. Let´s start from Paros, pointing out that in most of the places we are going to mention you may prolong your stay and, besides a pleasant day on the beach, enjoy good food and lively night life as well.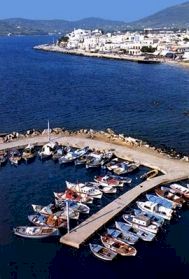 Starting from Parikia, our first stop is the natural harbour of Naoussa, a charming little town with picturesque wining lanes and whitewashed houses, which is well equipped with hotels to meet the growing tourist demand. The south of the island has also developod fast during recent years, especially places such as Piso Livadi, Logaras, Aliki and Chrissi Akti (Golden Beach), where big and fine modern hotels are to be found. I many areas you will also find well organised campings. How could a tourist spend his or her day in Paros!
There are many excellent sandy beaches, easily accessible By public transport and small boats or by cars and motorbikes which one can rent in Parikia, Naoussa, Pisso Livadi and Aliki. A good network of petrol stations around the island will allow you to reach your destination safely. Once there, wherever that may be good food will be no problem and you will have the opportunity to enjoy lots of fresh fish, Greek and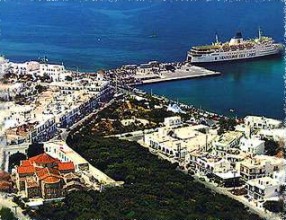 local specialities and fine local wine in small picturesque tavernsn the more developed areas where there are relatively big hotel complexes you will also be able to find international dishes. Among the places you should not fail to visit are Drios, Kolimbithres, Piso Livadi, Ambelas, Aliki, while not to be missed are also Lefkes, the old capital of Paros with the traditional houses in the interior of the island.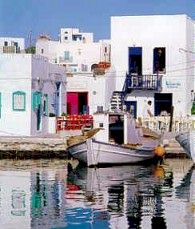 Another lovely beach is that of Agios Georgios, while Glifa and Moutafi offer a more secluded setting for youe swim. The road network is good and many roads are newly constructed, especially in the south. There are many travel agencies organising excursions to the main sights, thus giving you the chance to have a full view of the island. If you would like to visit some of the surrounding islands, there are organised excursions to Naxos, Delos, Mykonos and Santorini. During July and August you can also go to Sifnos and Serifos. Having Paros as a centre, all the Cyclades islands are easily accessible. Paros is connected by ferry to all the main ports in the Aegean sea, from Thessaloniki and Skopelos in the north through Piraeus and all the islands of the Cyclades to as far as Nafplio and Crete.
Send mail to webmaster@parosweb.gr with questions or comments about this web site.
Copyright © 1998 - 1999 ® PAROS WEB SERVER!
Last modified:09/01/1999